Deciding what to put in your camper van conversion is something you should decide from the start. Planning your layout is essential before you start buying or making any interior parts. What you fit to your camper van will be mainly determined by your intended use of the vehicle, the size of the vehicle and your budget. If you haven't already, then look at the example layouts of other peoples camper vans. This will give you a good idea of the options available to you. Most people will build their camper van as a living area on wheels, with somewhere to sit, cook and sleep. Many people have specific uses for their vehicles, such as surfing, windsurfing or motocross, and special consideration has to be paid to these special requirements. People with large families need vehicles with a large number of beds. Building your own camper van is perfect for these groups of people, as the vehicle is tailored to your needs. It is always better to only fit the features you really need. Don't fit something just in case you need it. Space is valuable, and you do not want to carry unnecessary weight.
Seating
Seating is probably the most important thing in the living area of the camper van. The seating needs to be comfortable, and you need enough seats for everyone, including any expected guests. Here are the typical seating configurations people use:
Across the van seating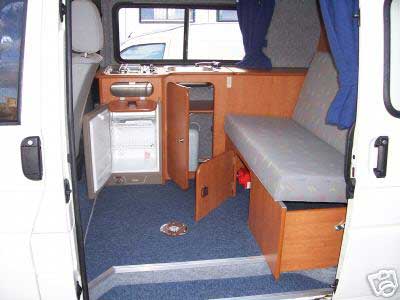 The classic seating arrangement of the VW camper van is perfect for small vehicles. It makes great use of space. 3 people can sit on the seat, more if there are children. It is possible to convert the front seats of the van so that they swivel around. This makes a nice social area with everyone facing each other. Making use of the front seats like this is a great way to maximize the resources in your van. The seat in this example converts into a double bed. It pulls forward to occupy the empty space. This is typically called a rock and roll bed. If making the seating yourself, consider using the space under the seat as storage. Fitting doors to the front of the seating box, rather than the top, makes access much easier. The downside to this layout is that the back end of the van is permanently separated from the front. This does leave lots of storage space in the back. This layout works best in small vehicles, especially those where you cannot stand up, such as low height VW Transporters, Ford Transits, etc. For a really cheap solution you can bolt a small futon in place of the seating area.
L shape, or along the van seating
L shape, or along the van seating, is good for bigger vehicles, particularly those you can stand up in. It allows more room to walk around. If you want to be able to walk between the living area and the cab you can just have seating along the side of the van.
If you intend to use your camper van for other things, such as occasionally moving furniture, transporting bikes, carrying surfboards, etc, this layout is great as it is really flexible, and allows lots of things to be loaded.
This layout is also good for panel vans as you can sit on the seat and look out of the open side loading door.
Cupboards can be added above the seating area, and other items, such as surfboards can also be stored there.
Under the seats there is plenty of room for storage.
Storage
Storage is important to consider when planning and building your camper van. If you camper van is for weekend use, or for sports, then storage can be kept to a minimum. But, if you are building a camper van for long trips, then plenty of storage is vital.
Tall cupboards are a great use of space.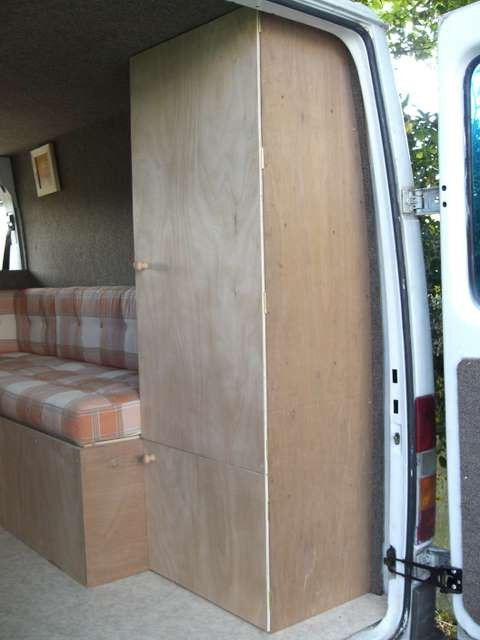 Overhead lockers are good above the kitchen area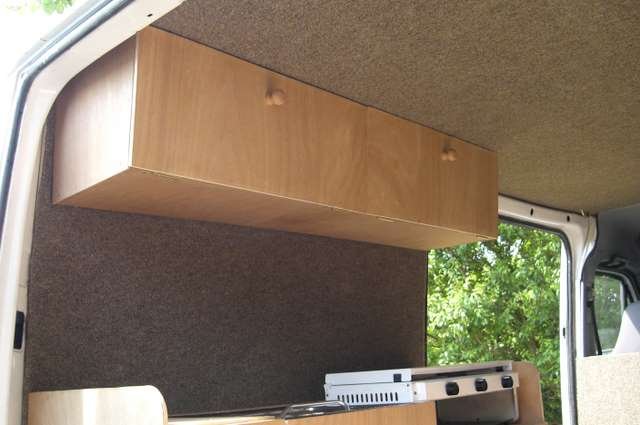 Small cupboards can make use of small spaces

Kitchen areas typically have their own storage.
Kitchen
Where you put the kitchen area often depends on where you put the seating. If you are using the class VW across-the-van seating arrangement (see above), then you will almost certainly have to put the kitchen area behind the drivers seat. If you are planning on L-shape type seating then you have a few options.
Kitchen area behind the cab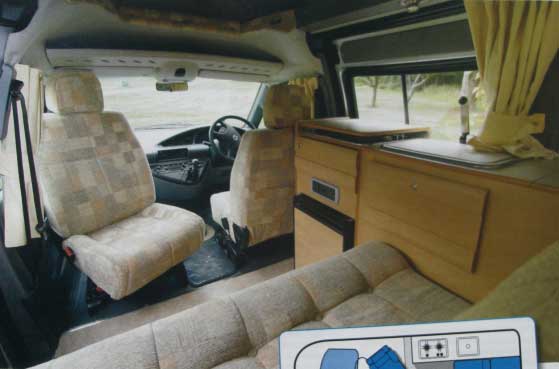 The quickest and easiest way of fitting kitchen cupboards is to buy pre-made units from DIY stores. Some adjustment is normally necessary to allow fitting to panel vans, as the van walls are never flat. I created my kitchen unit entirely from 9mm plywood, as this maximized my limited space.
Kitchen products
Image
Title
Price
Link
VW T4 Kitchen Unit

This MDF camper van kitchen unit is ideal for the self build/DIY market and can be sanded, painted, wrapped, covered, laminated or sprayed.

£

230.00
Buy
Bathroom
If you have a medium or long wheelbase vehicle you can consider fitting a dedicated bathroom area. Short vehicles don't have enough room typically.
When fitting a bathroom area, most people make a dedicated bathroom. Inside you can add a wash basin, perhaps one that folds up against the wall when not in use to save space.
A toilet can be integrated into the van, which requires the vehicles be parked at the right place on the campsite to empty it. A much easier option is to use a regular portable toilet, and secure it to the floor of the bathroom.
If you don't have a bathroom area you can use a portable toilet, and store it away in an easy access cupboard when not in use.
Showers
Many people fit showers in their camper vans, only to find they do not use them. Showers use a massive amount of water. If you use the shower regularly you have to fit a large clean water tank and a large waste water tank to collect the dirty water. Carrying large amounts of water in a vehicle is not a good idea. Water is heavy and upsets the balance and handling of the vehicle, as well as making it drive more slowly whilst using more fuel. If you intend to stay in campsites every night they you do not need a shower, as you can use those on the campsite. If you intend to free camp then you might want a shower, but consider a water efficient shower. Many people fit a tap with a hose to their kitchen sink. They then pull the hose out of the back of the van and shower outside with it. It's a good idea.
Furniture Examples
Here are some examples of how people have built their furniture. Hopefully the examples with give you some ideas.
Seating area with pull-out bed
The seating area, with the bed retracted.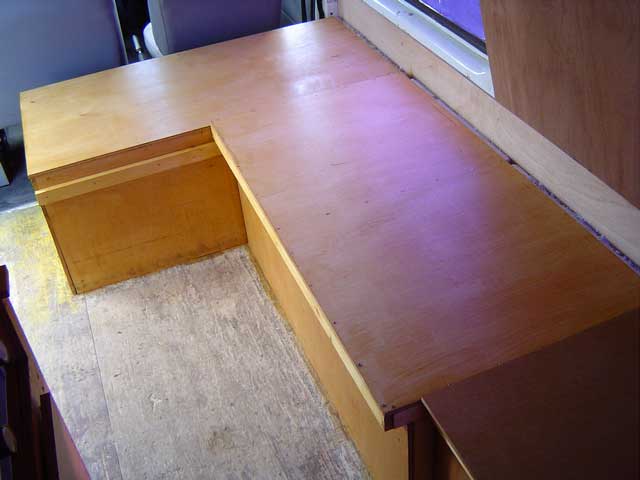 The bed slides out and locks into place.
Clever bed idea that uses slats
The slats are stored away during the day. The slats are from wood frame bed, and are available separately from Ikea.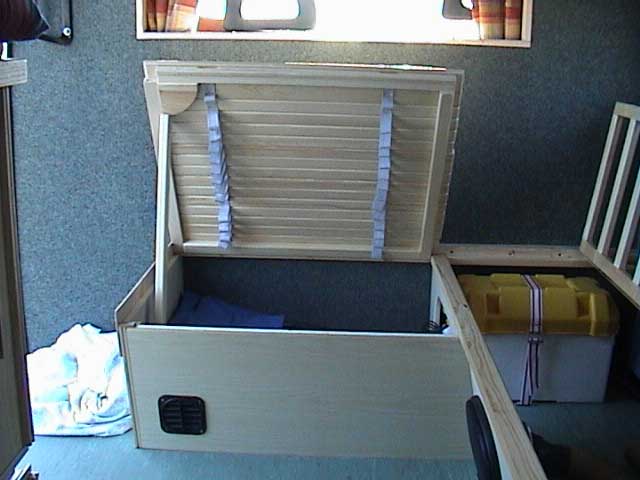 At night the slats slide out on a frame.
Furniture kits
Furniture kits are a great way of adding an interior to your camper quickly. Check these listings on eBay.