This page is specifically about VW camper vans. There is a dedicated page to VW Transporter vans (i.e. VW vans that are not campers).
VW popularised the camper van concept when in the 1950s they asked Westfalia to convert their Type 2 Transporter vans into compact vehicles that allowed transport, sleeping and cooking. Westfalia did this, and continued producing camper van conversions until 2003.
Type 2 T1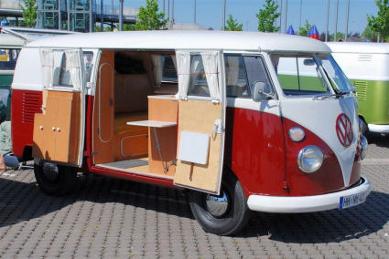 There were many variations of different models produced over the years, but the most popular remains the Split Screen Type 2 T1, produced between 1950 and 1967. These are highly sought after vehicles are the remaining examples are worth a lot of money, especially in the USA and UK.
Type 2 T2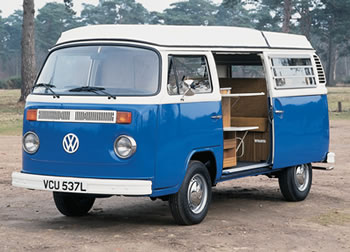 Westfalia continued converting the later Type 2 T2 model, knows as the Bay Window model. These conversions are also very desirable.
T25 and T3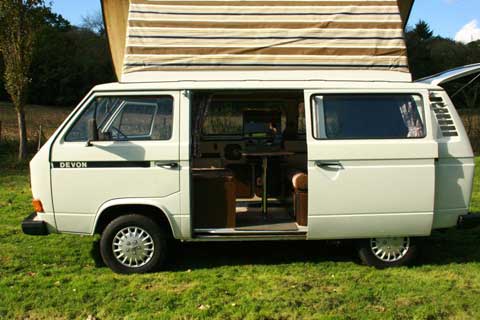 The T25 or T3 models proved just as popular as the older Type 2 vans. There are lots of examples available today, from various conversion companies..
T4 and T5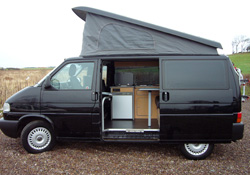 In the 1990s VW introduced the modern T4 Transporter van, which caused a resurgence in VW camper popularity. VW T4 and the newer T5 Transport vans are also very popular camper vans.
Builders of VW camper vans
Westfalia the best known converters of VW camper vans, but there are many others:
Westfalia
Winnebago
Devon
Dormobile
ASI / Riviera
Danbury Motorcaravans
VW Sun-Dial
VW Camper standard equipment
There are a number of things you'll find as standard in VW camper conversions
Foldout seating doubling as a bed
Birch plywood interior panels
Laminated cabinetry for storage
Ice box or cold-box
Sink (some models)
Water storage and pump
Electrical hookups
Curtains
Screened Windows
Laminated folding table
VW Camper optional equipment
A lot of options were available over the years by the different converters
Attached "pop up" tops with tent
Attachable stand alone tent
Attachable side awnings
A portable chemical toilet
A camping stove
Various camping equipment
Child sleeping cot in driver cab
Storage box which matches interior. Can be placed between front seats by sliding door.
Air conditioning
Rear swing table
Small map table mounted on dash
VW campers in popular culture
VW campers have become popular culture icons throughout the world, but particularly in the USA (especially in California), the UK, Australia and South Africa. The VW camper particularly became associate with hippies and surf culture, where it remains a firm favourite.