The Ford Transit is a popular range of panel vans, minibuses and pickup trucks. The Transit has been the best-selling light commercial vehicle in Europe for 40 years. In Britain and other countries the term 'Transit' often refers to any van of Transit size.
Ford Transits have long been used as base vehicle for camper van conversions. The pickup chassis is also popular for motorhomes. More than 5,000,000 Transits have been made since 1965.
The Transit is a reliable vehicle. Mechanically excellent, although basic on earlier versions. Transits are known for rusting though.
Panel vans come in short, medium and long lengths, and low, medium and high tops.
Ford Transit Camper Vans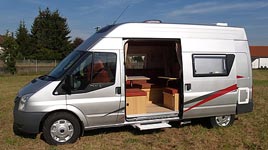 Transits have been used by many professional camper van conversion companies, and are also very popular with people building their own camper vans. The short low models are great weekend campers, and a cheaper and roomier alternative to VW transporters. Long and high versions are great for bigger conversions.
For Transit Motorhomes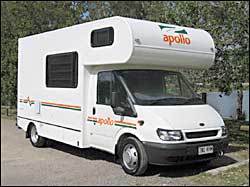 The excellent Ford Transit chassis cab has been used for just about every conceivable vehicle, including motorhomes. The Transit makes an excellent motorhome chassis, with its chief problem, rust, not really featuring as a problem with coach built motorhomes.
Mark 7 (2006 – Present)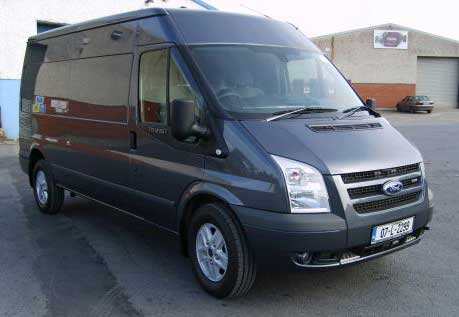 In August 2006 the Mark 7 Transit was released, with updated bodywork and interiors. This van won the International Van Of The Year Award 2007.
Mark 6 (2000 – 2006)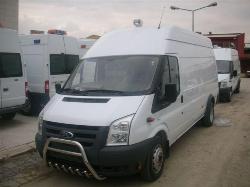 The Mark 6 Transit was introduced in 2000 with new design features from the Focus and Ka. Available in either front or rear-wheel drive. The Duratorq turbo diesel engine was introduced with the Mark 6 Transit.
Mark 5 (1994 – 2000)
The 1994 the "Smiley" Transit had a major facelift, with a new nose, dashboard and new engines. Air conditioning was available as an extra.
Mark 3 & Mark 4 (1986 – 1991, 1991 – 1994)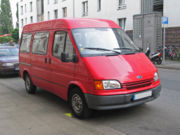 The Mark 3 Transit appeared in 1986. The new design incorporated the van front and windscreen into a single shape. The front suspension was changed to fully independent, except on chassis cab and LWB versions. Engines came mainly from the Mark 2 range. In 1992 the suspension change was rolled out across the entire range.
Mark 2 (1978 – 1986)
The restyled Mark 2 Transit appeared in 1978 with various updates, inside and out, and the new Pinto engine, from the Ford Cortina. Police and Ambulance versions used the 3.0L V6 Essex petrol engines. In 1984 the York diesel engine was redesigned into the 2.4L DI (direct injection) engine. Later models received a facelift including different grilles and headlamp surrounds.
Mark 1 (1965 – 1978)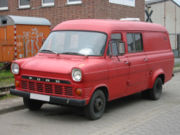 Introduced in October 1965, the first proper Ford Transit was initially produced in Langley in England. The Mark 1 Transit was popular because of the range of models available. Engines were the Essex V4 1.7 and 2.0 L petrol and a 41 bhp Perkins diesel. The Perkins engine was not popular though, and replaced by Ford's own York engine in 1974. Some Police and ambulance Transits were fitted with Ford 3.0 L V6 engines. In Australia the inline 6-cylinder Ford Falcon engine was fitted.
Ford Taunus Transit (1961 – 1965)
The first Ford Transit was built in Ford's Cologne factory in Germany, and called the Ford Taunus Transit. Introduced in 1953, but officially produced from 1961 to 1965.