Choosing the right type of vehicle for your campervan conversion is critical. You need a vehicle that matches your camping requirements, budget and vehicle maintenance skill level.
Choosing the right vehicle from the start means you can crack on with your conversion, and not look back. Choosing the wrong vehicle means delays in starting your conversion, and it'll probably cost you money too.
Let's look at the types of vehicle available, and which is best suited to you.
Panel Van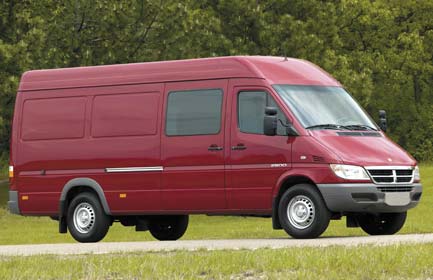 Panel vans are popular, spacious and ideal for medium to large camper van conversion.
The surge in recent years of courier services means there are loads of used panel vans to choose from. Those used by courier services generally have high-mileage, but might have service history. Vans used by buildings firms are normally thrashed.
Parts are readily available and fairly cheap, because there are so many of these vehicles around. Used vans are easy to find, and you should have plenty to choose from.
Most come in high top versions that allow you to stand up inside. They also come in short, medium and long wheelbase versions, so you can choose one to fit your needs. If you are building a camper van for a long trip then a panel van is probably the best choice.
Short or medium length panel vans are a good choice for 1,2 or 3 people using the van for short or long trips. For longer trips you'll want a high-top so that you can stand up. Shorter vans can be used everyday as a commuter, as they are reasonable on fuel costs (35mpg). Popular models include the Mercedes Sprinter, Ford Transit and Iveco Daily.
The popular VW Transporter is rarely found in a high-top or long wheel base, and are generally better for short trips, and especially good as everyday vans, as they are easy and cheaper to drive. The Mercedes Vito is also a great smaller, everyday van.
Most people can drive panel vans on a car license. They are generally easy to work on.
See the full list of panel vans.
eBay is a great place to find panel vans to buy, and here are some great looking options.
Mini bus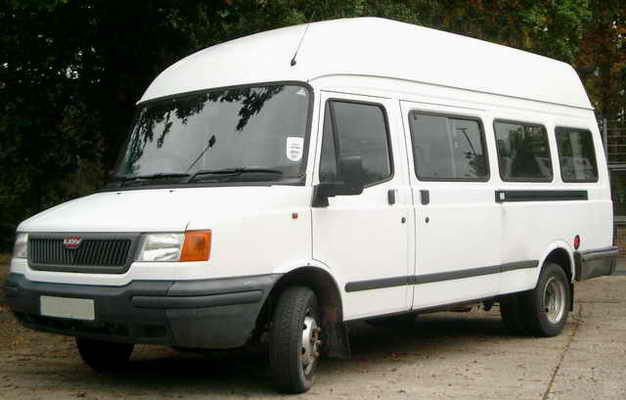 Mini buses are a good alternative to panel vans. Many are panel vans with windows already fitted, which is good if you want lots of light. Some models are available that are bigger than panel vans, like the Dormobiles used as library vans.
If you want a conversion that will have lots of windows then you can save yourself a lot of hassle by buying a mini-bus. You can always black-out any windows you don't want.
Almost all mini-buses will come with seats already fitted. This is actually a good thing, as they are easy to remove, and you can sell them on eBay. You can use some of the seats to make a dinning or seating area.
Most mini-buses have an easier life than panel vans. The miles are normally motorway miles, rather than harder citiy miles that a builders van would probably rack-up.
Popular models are Mercedes Sprinter and Ford Transit.
Most people can drive a mini-bus on a car license. They are generally easy to work on, and almost always share the same components as panel vans.
Car derived van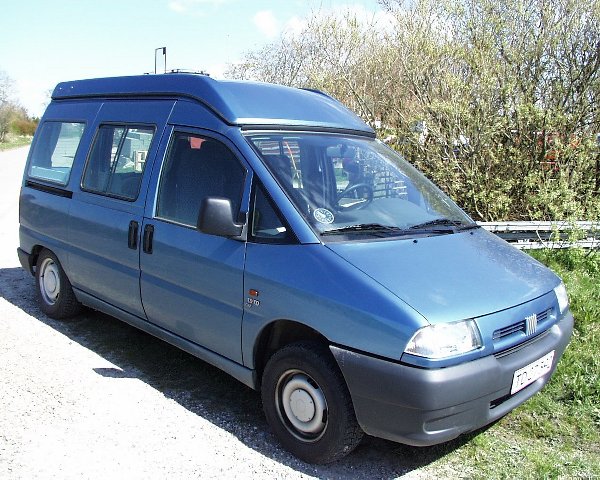 Car derived vans are compact, easy and cheap to drive. They are essentially a car with a larger van-type back area.
They are more suited for a weekend camper van, as they are limited for space. The rear area is a little smaller than a VW Transporter or Mercedes Vito.
These vans are great if you want a campervan for the weekend for 1 or 2 people, and for summer trips when you can spend time outdoors. When converting one of these vans you need to plan your use of space carefully. For long trips you might want to consider a panel van, than you can stand up in.
Popular models include Fiat Scudo, Citroen Jumpy, Peugeot Expert and Nissan Vanette.
You can drive these small vans on a car license, and they are easy to work on as they use the same components as cars.
Luton or box van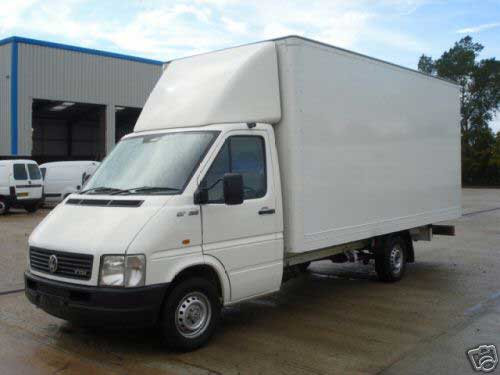 If you want more space then consider converting a large luton or box van. Most are simply a box mounted on a pickup chassis. The base vehicles are common makes and models such as Mercedes Sprinter and Ford Transits, so parts are common as they are shared by the pickup alternative.
The boxes are normally made of fiberglass, which are light, but also noisy. They are designed to be very light, and to provide limited insulation for the contents. Insulating them is a good idea, to add extra strength, reduce noise and to keep you warmer inside, when in cooler conditions. Some of the boxes have an opaque ceiling which lets in lots of light, but are very noisy when it rains. You can insulate the ceiling, leaving holes to let the light through. Adding windows to the side can be tricky as the walls are too thin to work with. However, more modern box vans have thicker plastic walls which are much better for working with.
Box vans are typically wider than panel vans, and allow more space inside. They are good for 1 or 2 people on long trips.
Luton vans have the very handy part that hangs out over the cab, which is ideal for adding a permanent bed.
In the UK ex British Telecom vans are a good buy, as they have service history, and there are normally many around.
Popular models include Ford Transit, Mercedes Sprinter and Fiat Ducato.
Depending on your country, and when your driving license was issued, you might be able to drive these vans on a car driving license. Check though. Parts are normally from pickups, and these vans are generally easy to work on. Bigger models might need specialist tools.
Ambulance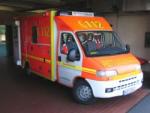 During the 1980's Ambulance conversions were popular due to the high price of panel vans. Today panel vans are much cheaper, and Ambulances are more expensive. But an Ambulance makes an excellent vehicle for a campervan conversion, for those with better engineering skills and enthusiasm.
Today's Ambulance are purpose built or adapted. They normally have higher powered engines and upgraded suspension, normally air powered. The rear section is integrated with the cab, is normally fully insulation with a hard lined interior, which makes a great finish.
Decommissioned ambulances normally come with the expensive medical equipment removed, but you will almost certainly have a mass of wires and fittings hanging around. To a DIY or engineering fan this should be easy to remove and adapt. Removing the excess wires is recommended as the combined weight of the extra wires, boxes and junctions will be considerable. Also be aware than many ambulances have 12v and 24v systems. Check them all, don't assume.
Typically the ambulance will come with the blue lights still on the roof. Legally you might have to remove them, of simply paint over them and remove the wiring.
Modern ambulances come with lots of tinted windows, which is perfect for a camper van. The rear doors open wide and easily. Typically there is no side door though.
Ambulances can make great campervan conversions, but know what you're letting yourself in fore before you buy such a vehicle. Many of the parts will be more expensive as they are custom fitting for the ambulance.
Typically you can drive an ex-ambulance on a car driving license. Parts are often the same as the panel van chassis, but often more expensive, high-quality parts will be fitted.
Bus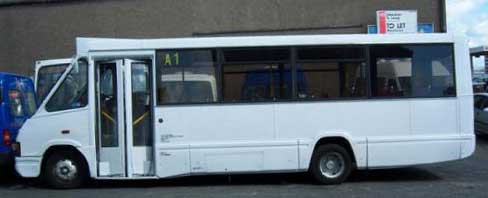 For maximum space and a permanent home then consider a bus. Whilst they offer incredible space, they will limit where you can drive and park. Used models are not normally expensive to buy, but parts and fuel can be expensive.
In comparison to vans, or even a mini-bus, a bus offers masses of room. So much room makes a perfect vehicle for living in. You can build proper bedrooms and total separate kitchen and living areas.
If you are using the vehicle for motocross you can add a custom made storage area for you vehicles. I have seen some bus conversions where people have added a storage area in the back for a small car.
Whilst internal size is a great plus point for a bus, the external size is its downfall. Driving a bus around is not easy. Between towns you'll have no problem, as you'll follow the same routes as the public transport buses, but once you get into villages and smaller towns you could find yourself limited to where you can go. Some campsites don't have room to maneuver a bus, but with such a self contained vehicle your need for a campsite is much reduced. And after all, there are other campsites.
If you enjoy visiting out-of-the-way places, and remote beaches and beauty spots, a bus has the greatest of problems. Small bridges often have weight restrictions, and buses tend to be over those weight restrictions. Buses also don't handle rough terrain so well, as there long wheel base grounds out more easily.
Buses are cheap to buy used as there are so many of them, and few people looking to buy them. They are generally very reliable, built with commercial vehicle components, and serviced their entire lives. Think of cities like London, were 50 year-old buses still roam the roads.
If you want masses of room, and have the space to store such a big vehicle then a bus conversion might be for you.
In some countries, depending on when your driving license was issued, you can drive a bus on a car license, as long as it is not your job. However, check before you buy. Parts can be expensive, but last a very long time. Parts can be tricky to fit, as they are bigger and heavier.