The Mercedes Sprinter is a popular and reliable panel van, chassis cab and minibus. Launched in 1995 to replace the Mercedes T1 van. The Sprinter is sold throughout the world, and has become the most popular new van.
The Sprinter is available with 4 and 6 cylinder diesel and petrol engines, and even a electric hybrid edition. The most powerful diesel option offers 184bhp, which results in a very quick vehicle.
Sprinter vans are very reliable and normally last a long time. There are examples that have done 200,000 miles and look and drive like new. Klaus Schade has done more than 900,000 kms in his Sprinter without a breakdown! That's 22 times around the world!
Panel vans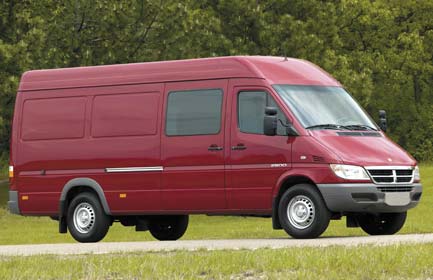 Mercedes Sprinter panel vans come in a short, medium and long wheel base format. Medium and high-top heights are available. There is no low-top version. Instead Mercedes offer the Vito van.
Mercedes Sprinter camper vans
Sprinter's make an excellent base for any camper van or motor home. Self builder particularly like Mercedes vehicles for their build quality and reliability.
Example conversions
Campervan Conversion Tips
If you want to add swivel seats to your cab you have a couple of options.
You can make the divers seat swivel by buying an appropriate swivel plate that bolts in between the seat and the box. When the seat is pushed all the way back it can then be turned to face backwards. You have to let the handbrake off to let the seat rotate through, then re-apply the handbrake. It is also possible to take apart the handbrake handle and shorten it so that you don't have to let it off each time.
A single passenger seat can be made to swivel with the same type of plate, it just turns the other way, as you always want the seats to rotate to the inside. If you are struggling to find a passenger seat then buy a drivers seat from a van that is being broken.
The two front seats from a Ford Galaxy apparently fit a Sprinter. They have arm rests on one side ans swivel. Look around at your local breakers to find a pair.
Sprinter Information and Tips
T1N – use of the wrong gearbox oil can make for difficult gear shifting when running cold. Mercedes recommend buying the oil from them, of cours. However a Mercedes engineer has also recommended "castrol 75/85 synthictic oil" for the gearbox g32 (711620).
Mercedes Sprinter motorhomes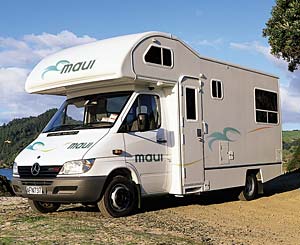 The Sprinter chassis cab is a very popular base for motorhomes.
Useful Link
Useful websites
Yahoo Sprinter Group – lots of files available for download.
Mercedes VIN Decoder – Find out information about your Mercedes just from the VIN number. Also allows you to determine the paint code.