The Fiat Ducato is a popular panel van and good for camper van conversions. The Ducato chassis has long been used by motorhome builders.
The Fiat Ducato is the same van as the Citroen Jumper and the Peugeot Expert, with all three vans being made in factories in Italy and Brazil.
Ducato's are reliable and well made. Parts are easily available and well priced.
Fiat Ducato camper vans
The Fiat Ducato is popular base vehicle for camper van conversions. Ambulance versions of the Ducato are available, and a good choice for a camper van conversion.
Fiat Ducato Motorhomes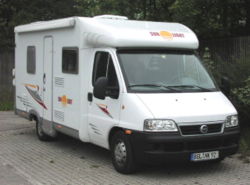 The Fiat Ducato chassis is one of the best, and is used in a very high percentage of motorhomes.
Third Generation (2006 – present)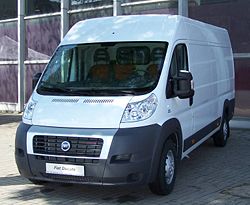 Goods and passenger versions are still available. Carrying capacity was increased from previous models.
Second Generation (1993 – 2006)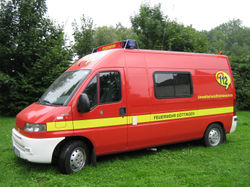 Peugeot changed their van name to Boxer and Citroen to Jumper. Initial Fiat 2.5L diesel engines were replaced with 2.8L Iveco engines in 1998.
The Ducato had a choice of four engines; 2.0L petrol, 2.0L JTD, 2.3 JTD 16v and a 2.8 JTD. Manual and automatic gearboxes are available.
Goods and passenger versions were available.
In 2003 the range was restyled. The 2.5L diesel engine was dropped.
First Generation (1981 – 1993)
The Ducato was launched in the 1981 then redesigned for 1993: engines were 2.0-litre 4-cylinder petrol or 1.9 diesel.