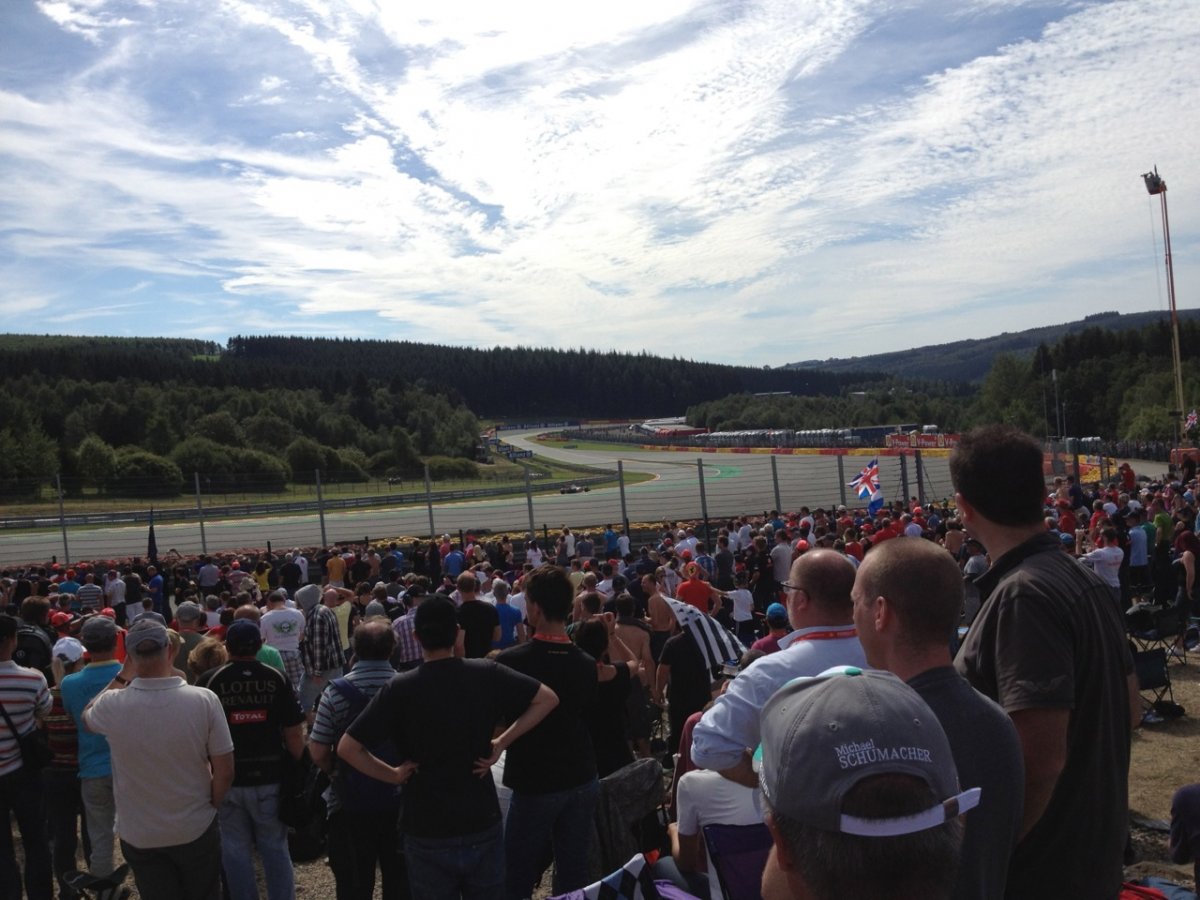 I have been to GPs in Barcelona and Malaysia, and in 2012 I and a few friends decided to try the Belgian GP near Spa Francorchamps.
In summary: our trip had torrential rain, glorious sunshine, a decent campsite, good food, great drink, tantalising qualifying, an great race, and a great few days in France afterwards.
It's a great venue and circuit. Because it's so far from any sizeable towns camping is a good idea. Camping with a campervan is an even better idea due to the high risk of rain at the circuit.
Expectations
I've been to Belgium a few times before and have always enjoying visiting. I've seen many Belgian GPs on TV and was really looking forward to visiting this legendary track. I longed to see Eau Rouge and cars pushing the psychical limit through this amazing corner.
I have been to the Barcelona and Kuala Lumpur circuits. Both are circuits near to their respective cities, but the Belgian circuit isn't really that close to Spa, let alone anywhere else of note. I was looking forward to this rural contrast.
One reservation was the weather. The circuit is tucked away in the hills, not too far from borders with Germany and France. This elevated woodland setting leads to typically heavy rain or glorious sunshine
Getting There
Going on the trip were myself, my girlfriend Abs and my first time GP'er friend James. Me and Abs would sleep in the campervan, James in a tent. So we loaded the van with out stuff, the tent, and our bikes.
On the Thursday we took the 12 noon ferry from Dover to Dunkirque, the low cost route to France that Abs and I have taken several times. Dunkirque is a little way further towards Belgium than Calais.
We got to Dunkirque in good time, I adjusted to being back on the right-hand side of the road and we headed towards Spa. We got a bit caught up in the ring road of Brussels, which was bit of a nightmare. We eventually found our way out and headed out towards Spa.
The weather had deteriorated and we had fairly severe rainfall most of the way. Not very encouraging for the weekend ahead. The forecast was rainy for Thursday and Friday, then good sunshine afterwards. At one of the last big towns before we entered the hills we stopped at a supermarket. We couldn't find a cashpoint, which we we relying on for Euros, and we only just did our shopping in time, as the supermarkets closed at 8pm. Be sure to plan for this sort of thing if you're going. Try and stop early for fuel, food and cash. Things can shut early in Belgium.
We got back on the road and headed towards Spa. The rural roads are of a fair condition, but quite windy. In the rain we weren't making great progress.
We arrived at what we thought was Stavelot town, home to the campsite we had paid a deposit to stay in, Eau Rouge campsite. It turned out this wasn't the right town. We saw lots of makeshift campsites, and the odd proper campsite. Whenever we asked for directions people sent us on a different route using lots of different lanes. Almost as if no one had every heard of Stavelot before. Annoying. We followed a sign post towards Stavelot, and when quite close to the town had to turn back because of a height restriction. More annoying.
Eventually we got to Stavelot. The town's roads we locked down and we followed the path to the circuit entrance, and to our campsite, which was quite close.
The Campsite
The Eau Rouge campsite is one of the few proper campsites in the area. It's geared up for family use. When the bigger motor racing events come to town it adapts to accommodate the massive influx of campers and drinkers.
We drove in and parked up next to another vehicle. We checked in and we were advised that where we had parked was fine. We decided to move closer to a hedge as it seemed a better spot. The campsite owner came over and told us that if there was something wrong with the first pitch we could get our money back and leave. Not the welcome we had expected. We later assumed the guy was tired and stressed, as he was more friendly later in the weekend.
So we returned to the original spot, right next to the basketball hoop, as the field we were in was normally the playing field.
The facilities at the campsite are good. Even with the massive influx of visitors the showers and toilets were pretty clean at most times. The bar is decent and serves good value drinks. Although it seems they only sell beer, wine and perhaps a spirit or two. All served by a jolly set of staff who are having a good a time as everyone else.
We took a few walks around the campsite. Each time we were surprised by the amount of absolutely smashed guys, or people playing music through massive sound systems. If you've camped at a GP you'll know this is normal, but I didn't expect quite as much at this permanent proper campsite. I guess there is no getting away from it. This is what most guys do at a GP.
In contrast out spot on the playing field was quite, and actually a really good spot. Aim for that area if you want some quiet.
The campsite is a comfortable bike ride from the town of Stavelot of about 15 mins, and an OK walk of about 40 mins I would guess.
Its about 40 mins to the circuit on foot, but there are shuttle buses from close to the campsites entrance that go to the circuit gates. Definitely worth taking.
The town of Stavelot
Stavelot is great little town, and a good pace to stay for the GP. There are various busses and shuttles to the circuit. It's a good place to stay if you are driving to the region. There are various temporary and permanent campsites around, and you should be able to find some sort of caping spot at the temporary campsites even if you just turn up.
There are some good restaurants and bars in the town. The pizzerias are great. The is a decent off license and a few ATMs. I'm not sure about the public transport situation, but it's not something I'd rely on at a GP weekend.
There is a decent supermarket on the outskirts of the town, towards the circuit.
Friday
The Friday was wet. Too wet to really visit the circuit. James had some friends who had also come to the GP. We met them and we all went into Stavelot. We had a quick look around this small town, then enjoyed some food and drink in a bistro whilst the rain came down. We managed to catch a few glimpses of the qualifying on the TV.
A quick stop at the small but decent supermarket on the outskirts of town, and a massive trip around the huge one way system that is in place during the GP weekend, and we were back the at the campsite.
Still raining.
Saturday
We awake to glorious sunshine! Yes! We pack our stuff and head into the circuit. We take the shuttle bus without having to wait around too much at all. At the circuit our bags were not checked, and we were fine to take our beer cans in, unlike Spain where only plastic bottles are allowed.
We headed towards turn 10 where we thought we'd be able to get some good views. The steep drop in elevation at this part of the circuit is an amazing site, however the cars are generally coasting around the downhill section and they only open the throttle near the end of turn 12. It is a place to sit and stand. The views and awesome.
The qualifying itself was nail biting. Jenson Button eventually came through on pole position. I'm a Jenson fan, and Abs, James and I had a little bet on the top three cars, and I put Jenson first. So good news for tomorrow for me.
In the evening we headed into Stavelot on our bikes. It's a short fun ride. The town square and surrounding bars are very nice in the dry summer evenings. We had pizza at the big Pizzeria in the square, and several beers.
Sunday Race
Up early(ish) for race day, and we catch the shuttle bus towards the circuit. This time armed with a few more beers, knowing we could take them in. There were a LOT more people at the circuit today, and the spot we had enjoyed yesterday at turn 10 seemed impossible. We headed up the hill a little find somewhere else, but the were just so many people. We headed down the hill towards turn 11 and found a slightly raised area opposite a screen. We settled in and waited for the race start.
The start was hugely eventful. Romain Grosegean clipped Lewis Hamilton's car and sent cars flying everywhere, with Fernando Alonso having a lucky escape as Grosjean's car narrowly missing his head.
After many laps of safety car the race resumed, with Jenson Button still in the lead. Jenson held the lead comfortably, even though Sebastian Vettel applied pressure and tried to real him in.
It was a good race with some great passing, although no real challenge to Jenson's lead. This worked out well for our little wager, and I won €8, which of course I use to buy a round of drinks.
After the GP
On the Monday we packed up and headed towards France. We stopped at a campsite in the town of Boiry Notre Dame near the city of Arras. It is a nice little campsite with amazing views over the countryside. The campsite is quite run down, with hints of how nice it must of once been.
We grabbed our bikes and road around the towns of the surrounding area. All very French.
The following day we road into Arras and enjoyed a great day exploring this nice little city.
After Arras we headed back towards Dunkirque for the ferry home.
Belgian GP Tips
Try and find a spot opposite a screen to watch the race. You'll understand the race a lot more from the screen than what you see on the circuit.
Take a radio and loud headphones if you can. The circuit radio is good and will keep you up to date.
You are allowed to take alcohol into the circuit, which I'd recommend, as it's easy to drink more than you think, and it's expensive inside the circuit. Bags were not checked and so we just took cans.
French fries and waffles are the food to go for at the circuit. Well, you are in Belgium!
Establish whether there is a shuttle bus from where you are staying to the circuit.
Head to the circuit early. Things take longer than you think, especially on a Sunday. Try and be on the move by 10am.
Try more than one place to watch the race, you'll be surprised what good views you can find if you have a good look around.
Expect the Sunday to be much busier than the Saturday.
We bought out tickets from the circuit direct www.spa-francorchamps.be/en. I'd always recommend doing this.