There are several things to consider when choosing and buying a camper van or motorhome. Below are the most important things to consider, and some advice for each.
Considerations
Budget
As with most things in life your type, age and condition of the vehicle will be determined by your budget. But your budget should not determine your vehicle. With just £1,000 you still have a number of choices of vehicle.
Whatever vehicle you chose you should always reserve some funds to replace the things that will wear out such as tyres, brakes and the exhaust. You should also reserve some funds to replace other things that may break or wear out such as the clutch, propshaft and simple things such as door locks. Generally though, if you drive your vehicle well and look after it your should not have to replace or fix anything in thousands of miles or kilometers of driving.
Size of vehicle
You should choose a vehicle that is easy for you to drive, has enough storage space for all of the occupants possessions, enough seats for everyone to sit when driving. Larger vehicles use more fuel, cost more in parts, are more difficult to drive, are more difficult to park and cost more for ferries and tolls. Buying a large motorhome when a smaller camper van will do is not a good idea. Equally, 4 people cannot live conformable for months in a small camper van.
Vehicle selection guide
Here is a guide that may help you decide on a vehicle
No. of people
Suggested vehicles
Comments
2
VW camper or transporter, small panel van, car derived van
VW campers are ready to go with everything you need. Older Type 2 and T25 models will probably have petrol engines which are more expensive than diesels to run.

Small panel vans offer more room, and most have power steering making then easier to drive. They will almost certainly have a diesel engine, making them more economical than petrol VW campers.

Car derived vans offer the least space, but are cheap to run and very easy to drive. They are great as a car/camper for every day use. Perhaps too small for a long trip though.

3
Medium or long panel van, small motorhome
Easy to drive vehicles that offer a lot more space and storage. Most can be parked in car park bays. Large enough for 2 or 3 people to live in on long trips.
4
Long panel van, motorhome
Lots of living space. More difficult to park and drive.
5 or more
Motorhome
The ultimate mobile living space. Expensive to buy and run. Difficult to park.
Number of passengers and beds (berths)
A camper van is a great size for a couple, or for 2 or sometimes 3 friends sharing, if one sleeps in a tent, or the van has a pop-top roof with a bed. Some camper vans have 4 berths, but these are often hammocks or pop-top roof beds. You should check and try them before buying the vehicle. For 4 adults or more a panel van or motorhome is required. Many motorhomes, even smaller ones, have 2 double beds. Some have 1 double and 2 single beds. Larger panel van conversions may have single or bunk beds.
Most countries in Europe will require that all adults in the vehicle be wearing a seat belt. Make sure your vehicle has enough seat belts for all passengers. It is not a good idea to travel seated sideways in a van. Side-on whiplash effects are considerable worse than head on.
Do not underestimate the amount of space required for many people to live together.  If the weather is good you can spend time outdoors.  But if the weather is bad or you are travelling then you will all be in the vehicle, and must have enough room to relax.  Also consider situations such as first thing in the morning.  If someone wakes up it is not nice not being able to get up, sit down, or out of the van until everyone is up.
For a couple a VW camper, car derived van or small panel van is a good option. Generally a large panel van or motorhome is a good option for 2 couples or 4 individuals.
Where will you be travelling?
If you intend to travel off the beaten track, especially on unsealed or poor quality roads, such as on a surfing trip, then you need to avoid large vehicles. Smaller and newer vehicles will cope with rough roads much better than a large or old vehicle. When looking for good surf in northern Spain A VW T4 will handle those rough roads much better than a VW T2 or a motorhome.
Service history and mileage
A vehicle with full service history (FSH) or even a mainly complete service history (SH) is normally a good buy. This shows that the vehicle has been inspected and maintained regularly. It shows that the owners have taken the time and money to care for the vehicle, which generally means the inside as well as the mechanics may have been looked after.
High mileage vehicles are not necessarily to be avoided. Especially if they have service history. Leisure vehicles such as camper vans and motorhomes generally have low mileage (less than 100,000 miles). However modern vehicles are designed to, and easily do, go for well over 200,000 miles. A VW T2 with 100,000 miles on the clock is not such a good idea though. These vehicles have much older technology.
Buying essentials
Always have someone with a good understanding of mechanics with you when viewing or buying a vehicle. Their knowledge could save you from buying a vehicle with lots of trouble.
Don't rush into a purchase. Take your time. Try and see several different types of vehicle before buying one. Dealers are good to visit, even if outside of your price range (just don't tell them), as you can see lots of vehicles easily.
Never buy a vehicle without a V5 log book. Check the engine number and chassis number on the document match the vehicle.
If unsure about a vehicle, document don't but it. There are plenty more.
Don't buy a vehicle from a friend just because they are a friend. You can probably find better deals elsewhere.
If you don't like something about a vehicle don't buy it. It is very hard to change or replace part of a camper van or motorhome.
Types and models of camper vans and motorhomes
There are many types or vehicle to choose from.  They type you choose should be carefully considered and reflect your needs.  Don't just buy a VW camper just because they look cool.  Whilst a VW camper has advantages, it has many disadvantages, and another vehicle type may suit you better.
Types of vehicle available:
VW camper (Type2 split screen & bay window, T25 and T3)
The VW Type 2 is the classic camping vehicle that popularised the small size camper.  Great for 2 people, or more with tents. These older models are better for weekend breaks and not driving across Europe.  The engines are generally underpowered, petrol (so high fuel bills), and because of their age tend to rust a lot.  Buying a good one will costs a lot of money as they are very much in demand. Read more…
Good: Style, compact format, very cool
Bad: Rust, high cost of purchase, high cost of maintenance, slow performance, bad fuel economy, hard to find good examples
VW camper (T4 and T5)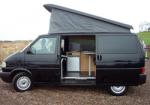 The VW T4 and T5 are the newest versions of the classic VW van, and one of the best small vans money can buy.  Reliable and well built.  Great for 2 people, or more with tents. These can be considered for the longest of trips.  Buying a cheap T4 will cost less than and older T2 or T25! Read more…
Good: Compact format, reliable, good fuel economy, good performance
Bad: Used vehicle prices can be high, some poor quality conversions around
Panel van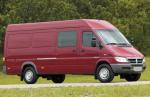 The boom in road transport and logistics has driven down the price of panel vans and increased the numbers on the secondhand market.  They make excellent leisure vehicles as they have lots of space, are reliable and easy to drive.  A modern diesel engine model will be fast and give good fuel economy.  Mercedes have been a long time favourite, but other European manufactures such as Peugeot, Renault, Citroen and Fiat now make equally good vehicles.  Iveco make excellent larger vans.  Ford Transits are becoming less popular, and still rust much quicker than any other type.
Panel vans come in a massive range of sizes: from short to extra long, from low to extra high.  Read more…
Good: Range of sizes, lots of space, good fuel economy (diesel engine), easy to drive
Bad: Can be difficult to park, bodywork generally needs maintenance, lots of worn out examples around
Motorhome or motorcaravan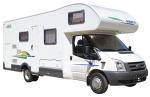 A motorhome or motorcaravan can offer the best in luxury.  Generally fitted with everything one needs, including a shower and toilet.  With a motorhome you are self sufficient and can do without campsites.  There are many to choose from, many are expensive, but there are some bargains also. Parts can be expensive, but most are built using the chassis of a panel van or pickup.  These vehicles are large and are normally difficult to park.  They can sleep up to 6 people, and offer a great option for large groups. Read more…
Good: Luxurious, sleep many people, lots of storage, self sufficient
Bad: Expensive to buy, can be expensive to maintain, difficult to park, target for thieves
Car derived van (converted)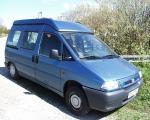 Car derived vans, such as the Renault Traffic and Fiat Scudo can make great camper vans.  There are not a lot smaller than a VW camper inside, yet are cheaper to buy and run.  Newer diesel versions achieve 50mpg!  Finding one with a camper layout inside is difficult as few are in production, but making your own is a good option if you have the skills.
Good: Easy to drive, easy to park, the best fuel economy (up to 50mpg)
Bad: Less space, hard to find conversions
Car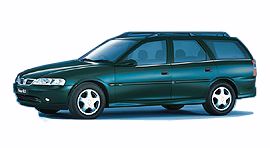 You don't need to have a camper van or motorhome to enjoy camping around Europe.  With a car and tent you can enjoy much of the same experience, but with a lot less cost, and much easier driving.  You do not have the luxury of a permanent home in the back of your vehicle though.
Also consider staying in campsite static caravans or chalets, hotels, budget hotels (pensions) and youth hostels.  Also don't forget the caravan option!
Good: cheap to buy, cheap to upgrade a car, cheap and easy to put a tent in the boot of your existing car
Bad: need to setup the tent each time, less storage space, fewer luxuries
Car derived van (not converted)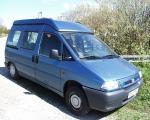 Using a car derived van without any sort of interior conversion is also an option.  If you are staying in warm climates it is possible to use it as a large car with a tent, or buy some items to make a comfortable experience.  By purchasing a cool box, gas stove, blow up bed you can have some of the comforts of a camper van with much less cost and purchasing and maintenance hassles.
Good: Easy to drive, easy to park, the best fuel economy (up to 50mpg), no permanent fixtures, anyone can do it
Bad: Less space than a camper van, less luxurious
Motorcycle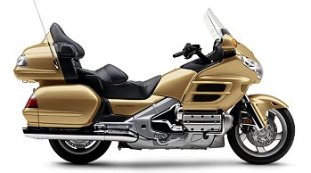 Touring by motorcycle has been a popular option for many years.  I have mentioned it here, but there are many other websites that cover this well.
Good: Easy to ride, very quick to reach destinations, easy to park
Bad: can carry very little, only nice in good weather
Pop-top models
Pop-up models address the problem of high vehicles. It is great to be able to stand in the vehicle when stationary. If you are spending more than a few weeks travelling in your vehicle being able to stand up is essential, as you will suffer from a bad back otherwise. However high sided vehicles us more fuel and are often prevented from entering car parks and other areas due to height restrictions. Pop-tops address this allowing the roof to be raised when stationary, and dropped when travelling. If buying a vehicle with a pop-top check it very thoroughly. It should operate smoothly and firmly. When up it should be solid. Try and imagine it in high winds. If it is damaged or worn in anyway anticipate an expensive bill to have it fixed.
People of up to 6ft (1.83 meters) can normally stand fairly comfortably in a semi-high top van. Although not able to stand upright, only a small stoop is required.
Useful resources
www.autotrader.co.uk – Autotrader is the biggest magazine and online advertiser of private and dealer sales of vans, camper vans and motorhome
www.mmmonline.co.uk – Motorhome magazine website with useful information
www.tntmag.co.uk – TNT magazine in London has lots of ads of people selling vans
www.ebay.co.uk – eBay has lots of vehicles and parts for sale.