When converting your own campervan pictures of other peoples conversions are invaluable. Our members conversions should provide ideas and inspiration to help you with your own conversion.
Micro Camper Conversions
Micro campers are becoming more and more common. For those that need a very economical daily driver, that can be used occasionally for camping, a micro camper is perfect. I haven't converted a micro camper yet, but here are some links to other peoples micro campers.
Ben Sutton's Peugeot Expert camper van.
A lovely camper using natural woods
Toby's Peugeot Expert camper van.
A great conversion, based on Ben Sutton's conversion. Uses parts from an MPV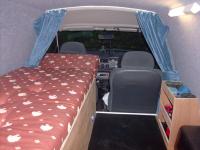 Ricky Roberts Ford Escort camper van.
A nice simple camper from a standard Ford Escort van.
James Harland's Nissan Micra camper van
Shrum's compact Peugeot Bipper campervan conversion.
A very compact and fresh conversion.
James Harland's Nissan Micra camper van
A compact campervan with pop-top roof
Rick Barnes' Fiat Scudo conversion
Simon JB's wind surfing conversion
Member Conversions
Here are the conversions done by the members of CamperVanLife.com
[view:conversions_list]