Below you will find many example and ideas from other camper van and motor homes. Hopefully these will give you some good ideas also.
Example camper van interiors
A VW T4 with a stylish black interior
The kitchen area

The seat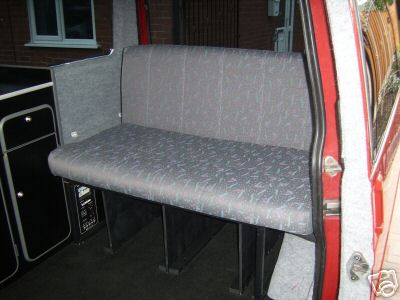 The bed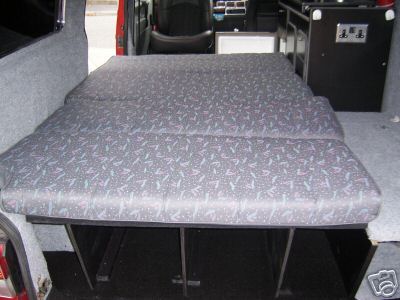 A spacious VW style conversion in wood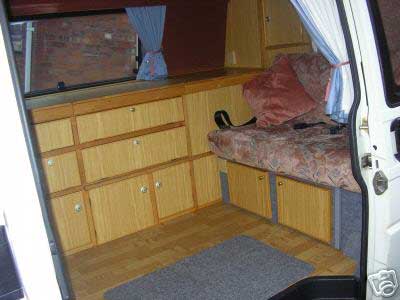 A big van with a small removable kitchen area
A good example of a conversion for motorcross or other applications where you want the vehicle for storage as well as living. The van has been nicely lined and windowed.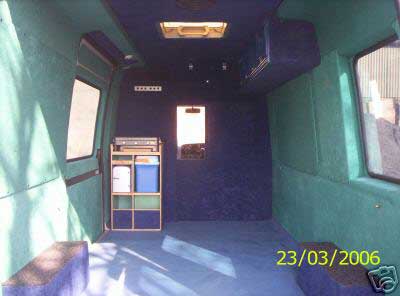 High quality kitchen area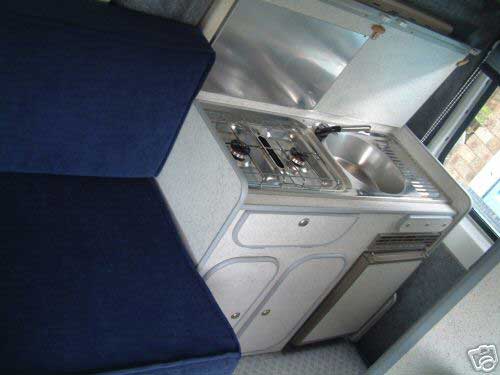 Seating behind the driving area
Nice use of space, allows one to comfortably look out the side door. Separates the living and kitchen area. With a similar design seat belts could be fitted.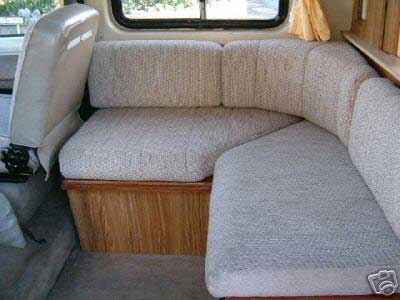 VW style interior in rich wood
A great example of the classic VW layout. Lovely wood.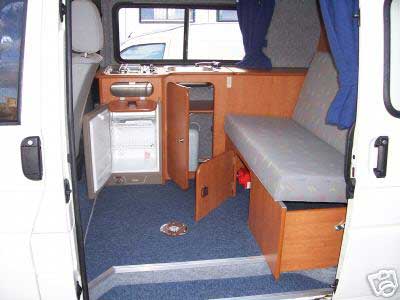 Small seating area
Two small seats making good use of a small area. Good extra seating for children, or small primary seating area if you are limited for space.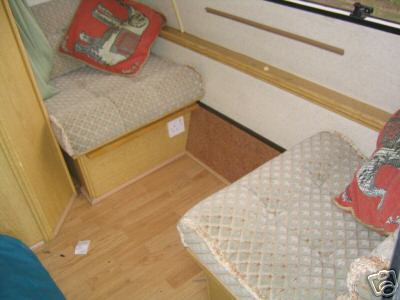 Van with large seating area
Lots of seats in this van. The seat on the left is dual purpose. The back changes direction, so people can face forward when driving, and face backwards when parked.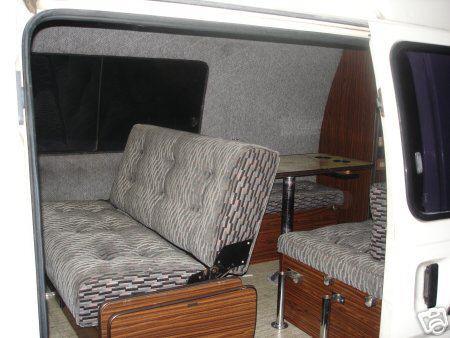 The seats folded down into the bed.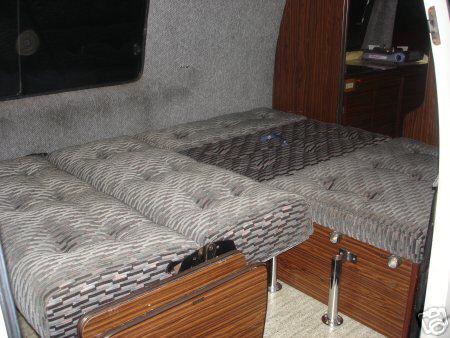 The back of the same van, showing the kitchen separated from the seating area.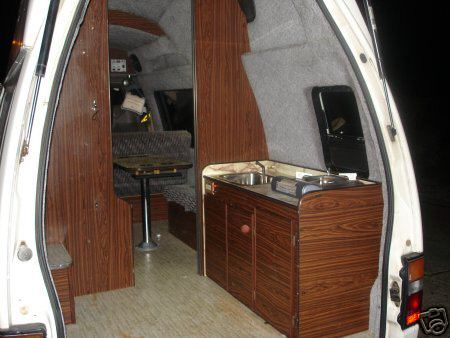 Very well made kitchen
A great kitchen area. Notice the rounded corners.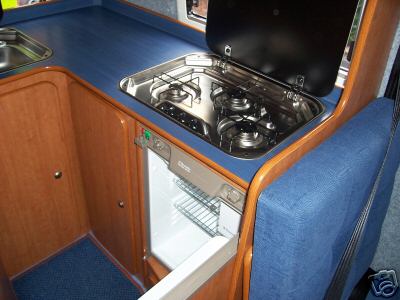 Spacious kitchen area
At the back of the van. Lots of light.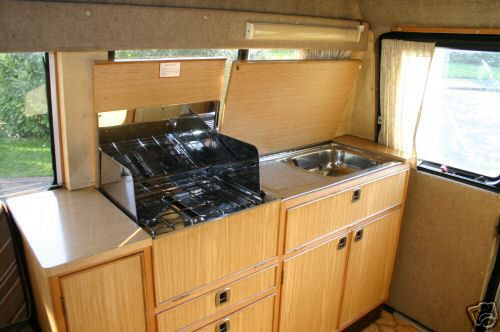 Kitchen at the side, seating at the back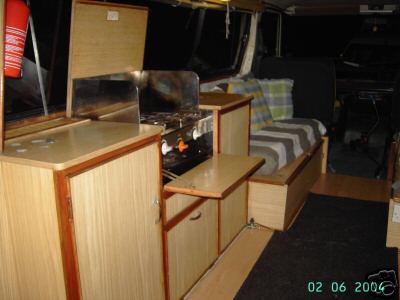 Nice VW style interior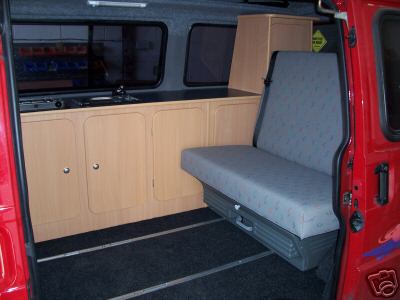 Well made kitchen area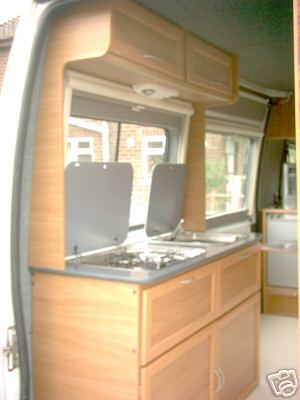 Nice VW interior
The bed down in a VW transporter camper van. Notice the sloping roof sides, something to consider in a VW.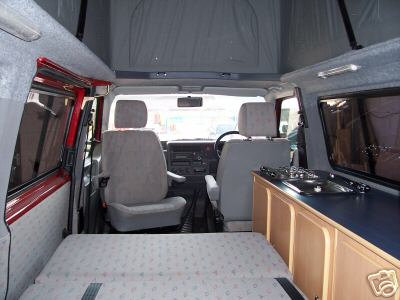 VW style interior, with access from both sides
This van has sliding doors on both sides. The interior allows access from both sides. Means a smaller kitchen area though. Great paint job on the outside!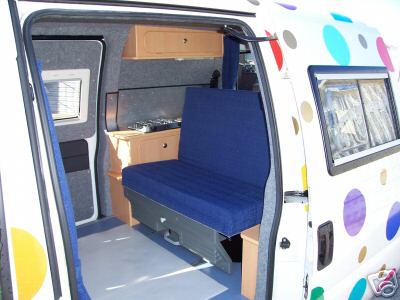 Traditional camper van interior
A traditional layout, used by many professional conversions. Nice space and airy. Only a single forward facing seat in the back though.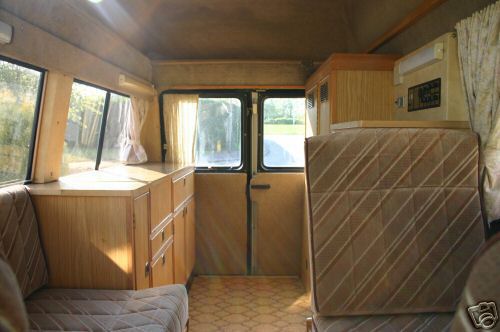 Mazda Bongo conversion
A Mazda Bongo is an MPV, but with the interior removed, a nice camper van conversion can be fitted.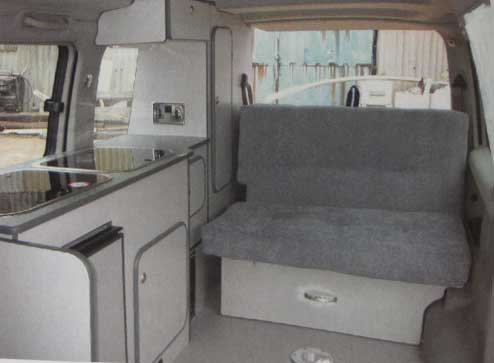 A professional Fiat Scudo conversion
car derived vans are small, but this great conversion shows how space can be maximised.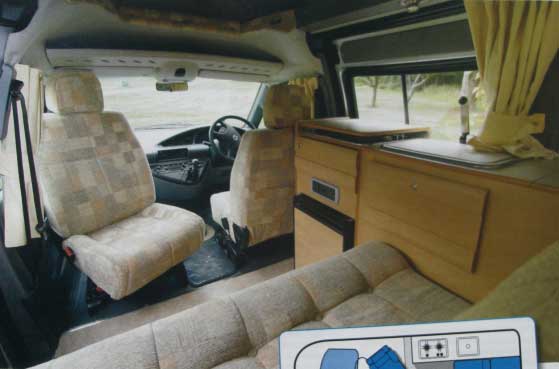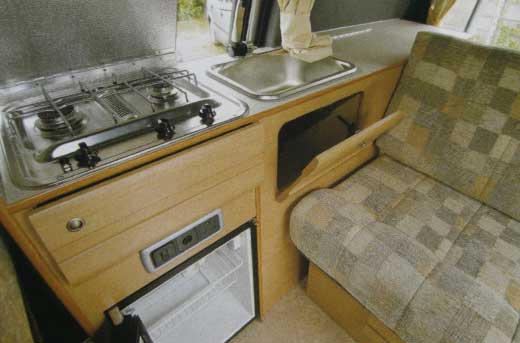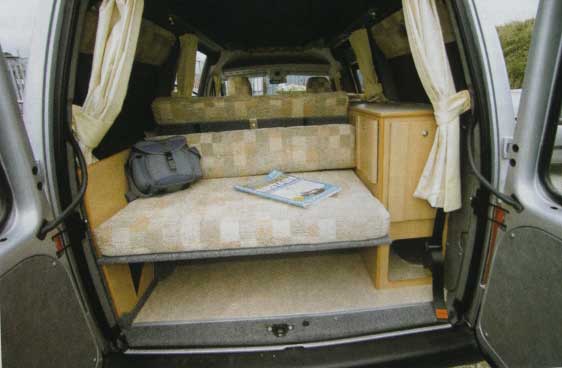 Example removable camper van interiors
By having a self-contained kitchen area, that lifts in and out of a vehicle, you can turn a van, MPV or even an estate car into a weekend or day camper van.
Professional removable kitchen
Lovely example of a removable kitchen. Probably from a Mazda Bongo.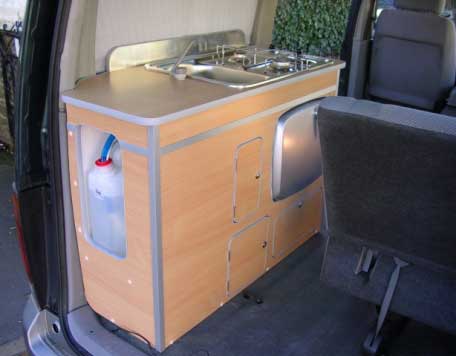 Fridge has front access, making very good use of space.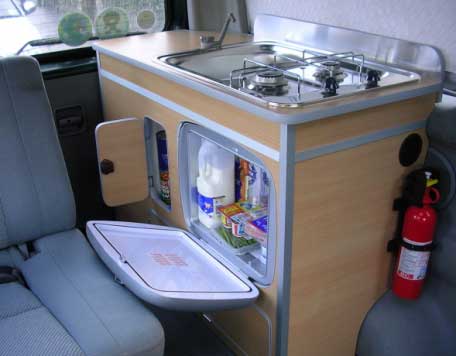 Very basic removable kitchen, in the rear of the van
Perfect for taking in and out at the weekends, leaving a normal functioning MPV, minibus or van.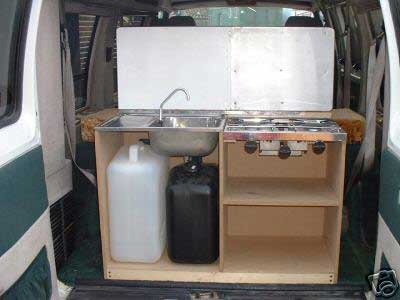 Simple removable kitchen
Probably made from an existing piece of furniture. A good example of how little money is required to make a livable space.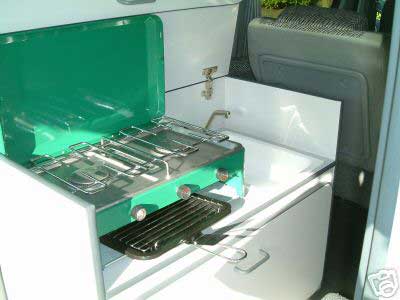 The sink has been fitted, the tanks are probably underneath.