Mercedes Benz have long had a tradition of making commercial vehicles, and were one of the first companies to offer a commercial diesel engine. In many countries of Europe the Mercedes Sprinter is the dominant commercial panel van , because of reliability and reduced long term operating costs. Mercedes commercial vans are known for lasting a long time, due to good engineer. Other European manufactures have caught up, but Mercedes still manufacture some of the best commercial vehicles available. Used vehicles hold their price well, so are not the cheapest.
Mercedes Sprinter (1995 – present)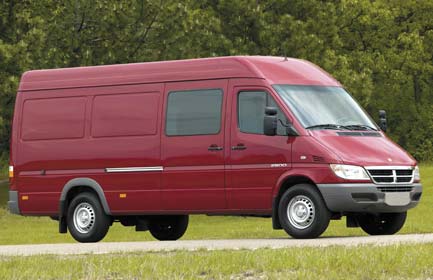 The Mercedes Sprinter is probably the most popular new commercial panel van sold in Europe. The Sprinter is a workhorse vans that comes in a range of sizes and power options. The Sprinter supersedes the flat nose T1 van . VW LT vans after 1996 are all Mercedes Sprinters with a VW badge on. The Sprinter is a great option for a panel van conversion. There are lots of used examples available due to its popularity in the commercial market. Used models retain their price, but a good example is worth paying for. Used throughout Europe, so parts are common.
Slightly narrower than other panel vans. With a side door step, and full engine access via the bonnet, great improvements on the popular T1 precursor model. Rear doors are side opening, with or without windows. There are different hinges and catches to allow up to 270 degree rear door opening. The new CDi versions have improved engines, with more electronics, and a dashboard gear shifter. Pre CDi models have no engine electronics.
There is no low height version, only medium and high top. The Mercedes Vito fits the bill for a low profile van. Car roof racks fit the medium height version, due to the high rain gutter. The Mercedes TL is the mini-bus version of the Sprinter, and is a good option for a panel van conversion, as it has many windows already.
208
308
310
410 – dual rear axle
Mercedes TN & T1 (1977 – 1995)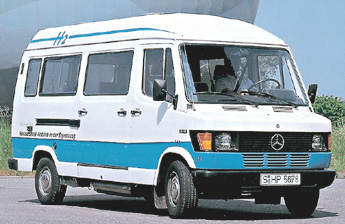 The Mercedes TN and T1 vans , also affectionately known as the "pig nose", due to its flat pig like nose. A very popular van, with many people using them as the base of their camper van conversion. Lacks a step on the side door, now found on the Sprinter. Engine access is difficult, with limited access via the bonnet, and the remaining accessible underneath the dashboard.
Mercedes Vito (1995 – present)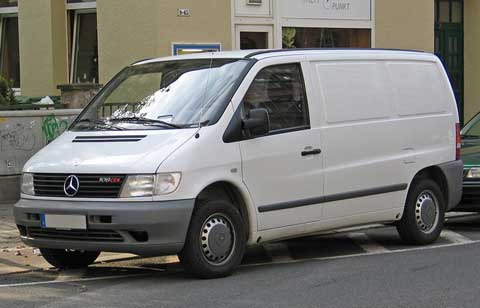 The Mercedes Vito is a popular small van. Marginally larger than a VW Transporter . Comfortable and stylish. Vito's hold their value well.
There is also a Viana model.
Mercedes T2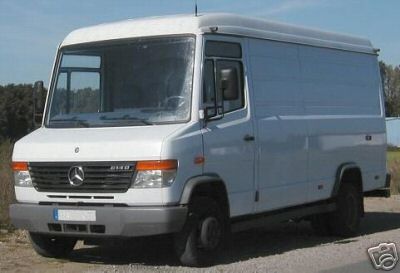 A larger format van, more popular in continental Europe.
Mercedes MB100D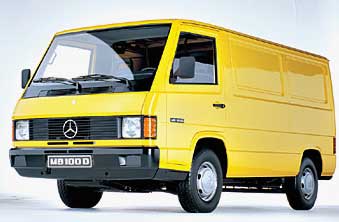 Curiously never sold in the UK. This van was superseded by the Vito. There are still many examples through continental Europe, most being in great condition.
Mercedes 406D, 408D, 508D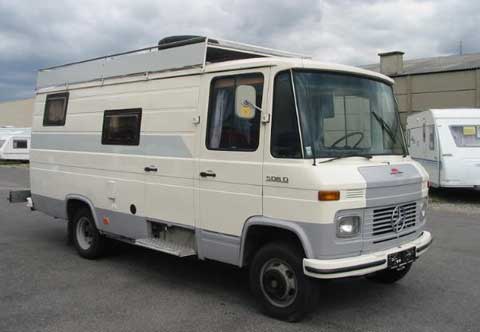 A large bus format vehicle, most with a handy hinged side door. The classic "traveller" bus, and many are still seen cruising around Europe throughout the year. Those that remain tend to have high mileage, still drive very well, and are in good condition.
Mercedes parts
Most serviceable parts are available at a good price. Mercedes do not make many of the parts themselves, therefore you don't have to buy them from Mercedes. The popularity of Mercedes vans also means that there are many good quality 3rd party parts available.
eurocarparts.co.uk – excellent online retailer of European vehicles parts. Massive discounts on prices.