New to 2017 PF Jones has widened the reach on the automotive industry by offering customers a trusted campervan conversion service.
PF Jones Campervan Conversions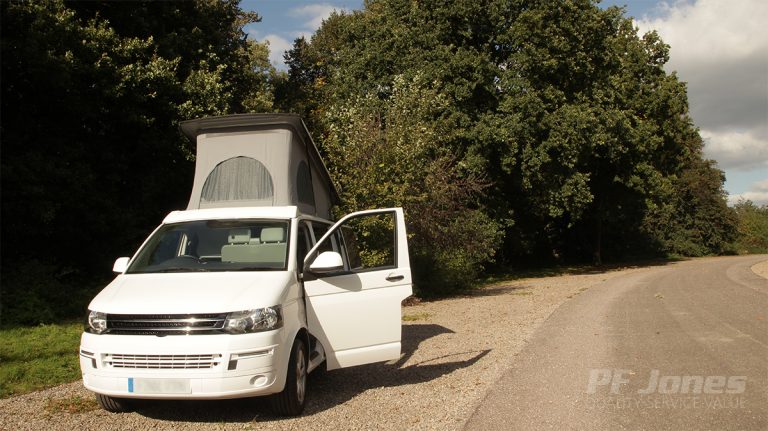 Campervan conversions are becoming ever more popular, they offer a different way to travel; to see life and explore all from the comfort of a vehicle. At PF Jones we offer a bespoke campervan conversion service, partial campervan conversions and ready to buy campervans. For our bespoke conversion service we can source a van from a trusted dealership to build a brand new conversion, alternatively the customer can provide a suitable van which has not been previously converted and meets our regulatory standards. For these complete conversions we can add small luxuries like televisions, showers and cooking facilities to really make your campervan feel like home. If you're interested in our ready to buy campervans that are available at our Stoke-on-Trent depot, they have been converted to the highest quality by our in-house campervan team. Our Partial service usually suits and assists the D-I-Y converters, this involves the installation of various elements like a rock and roll bed or high elevating roof, on suitable vehicles which have not had conversions performed on them previously.
Campervan Equipment
We also offer spare parts and equipment needed to complete a campervan conversion and can provide a fitting service for these items including Eberspacher heating systems, tow bars, roof boxes and roof bars.
What vans can be converted to a campervan?
We can convert any able van into a campervan, not just Volkswagens, whether it will be for using as a sole traveller, with family or a as a couple will be the deciding factor on what size vehicle needs to be used for the conversion.
What makes PF Jones conversions different?
Our Campervan Conversions offer a new way to explore and live life, we cater to all preferences and different group sizes, we work with the customer to achieve their new home on the road.
We work directly with our customers to achieve their goal, if you have any special requirements or needs do not hesitate to contact us to see how we can accommodate you.
Find out more or enquire about our Campervan Conversions here